Solutions
Event marketing offers many opportunities as well as an equal number of challenges. On the plus side, the face-to-face real-time nature of trade shows and events can be tremendously helpful in jump starting relationships with prospects and cementing relationships with existing clients, in a very time effective manner.

In fact, many companies do an impressive job in distinguishing themselves at conference in terms of new product launches, branding and customer relationship building. But all too often, the information that results from this contact is not captured or followed up in a way that is actionable, after the event.

Since event marketing is costly as well as time- and resource-intensive, it's important to develop a plan to capture and follow-up on new prospect and client information gained.
Key Solutions components:

* Prospect/Lead Definition, Follow up and Reporting
* Branding and Promotion
* Data Acquisition/Inputting
* Lead Management/Marketing Automation
* Metrics and Measurement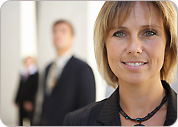 Thinking about automating your lead management activities with a CRM, lead management or marketing automation solution? Then consider that to achieve a meaningful, intgrated solution, the first step is to develop an effective lead management process. When you've identified a process that meets the needs of your business, your markets and your staff, it's time to automate. There are many automation solutions available, but only one that will offer the match in the long run. read more